Health and Safety
It is the policy of Clover to ensure as so far as is reasonably practicable the Health, Safety and Welfare of all employees working for the company or other persons who may be affected by our undertakings.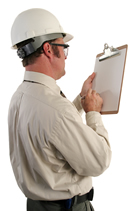 Clover recognises its obligation to meet all relevant legislative requirements pertaining to Health and Safety which apply to any of the undertakings of the organisation.
Clover implements the company's Health and Safety Policy and recommends any changes to meet any new circumstances. The company carry out training in all areas which they feel is relevant. Main types of Health and Safety training covered include: Nebosh, IOSH, CDM and all basic requirements.
Clover acknowledge that the key to successful Health and Safety management requires an effective policy, organisation and arrangements which is reflected through our management structure.